High five!
The recipe has been added to your shopping list.
Beef skewers with roast potatoes and cucumber relish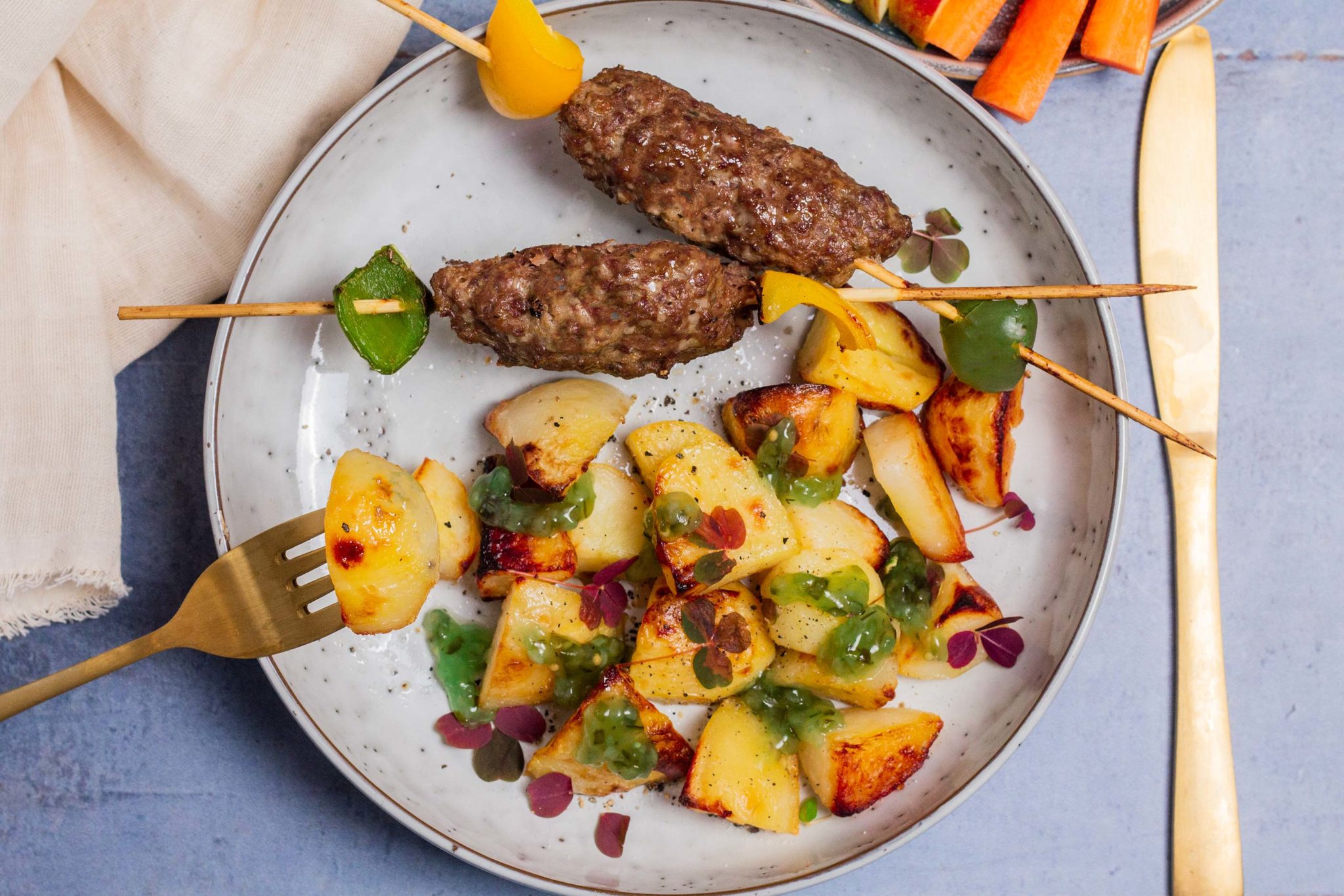 Ingredients
( 2 adults and 2 kids )
600 grams

potatoes

1 clove

garlic

1

onion

1 bunch

parsley

500 grams

beef mince

2 tsp

paprika

1

egg

1 tsp

salt

1

green bell pepper

1

yellow bell pepper

300 grams

carrots

*

2

apples

wooden skewers

olive oil

pepper

cucumber relish

baking parchment
ADD TO SHOPPING LIST
ADD TO MEAL PLAN
*
= Good to know - click the ingredient

= See the recipe - click the ingredient
The yummiest beef skewers with roast potatoes, which we're serving with our homemade cucumber relish. You can make the cucumber relish yourself, just click the chefs' hat in the ingredient list. But you can of course buy it from the supermarket, or use a different dip. Enjoy!
Directions
1. Preheat your oven to 220 degrees convection.
2. You can either scrub or peel the potatoes and then cut them into smaller pieces - or you can buy frozen potato slices. Place in a casserole tin or baking tray with olive oil, and bake in the oven for approx. 25 minutes, until golden and crispy.
3. Chop garlic, onion and parsley very finely in a mini chopper. Mix onion, garlic, mince, chopped parsley, paprika, egg and a dash of salt all properly together in a bowl. You can use your fingers, if you like. Cook a little test-nugget to make sure the taste is how you like it best!
4. Rinse and roughly dice half of the bell pepper - save the rest for snack veggies. Shape one or two oblong meatballs and pop them on a skewer, with a chunk of bell pepper on the end. Make sure you give the mince a good squeeze onto the skewer, so it doesn't fall off as it cooks. Place on a baking tray with baking parchment and bake for approx. 15 minutes, or until cooked through but still juicy. Be careful not to leave them in too long, as they can go dry quite quickly.
5. Peel the carrots and wash the apples, and cut them and the remaining bell pepper into sticks for snack veggies.
6. Serve the beef skewers with cucumber relish, roast potatoes and snack veggies. Enjoy!
Tip
Tasks for kids in the kitchen: Let your kids help cut up the potatoes. They can also cut apples and bell pepper for snack veggies.
You can absolutely use more and other spices, if you feel up to it. Have a go with whatever you have on the shelves. And if you can find lamb mince, that makes for a delicious beef substitute here.
Share your tips and comments