High five!
The recipe has been added to your shopping list.
Beef pie with hidden cauliflower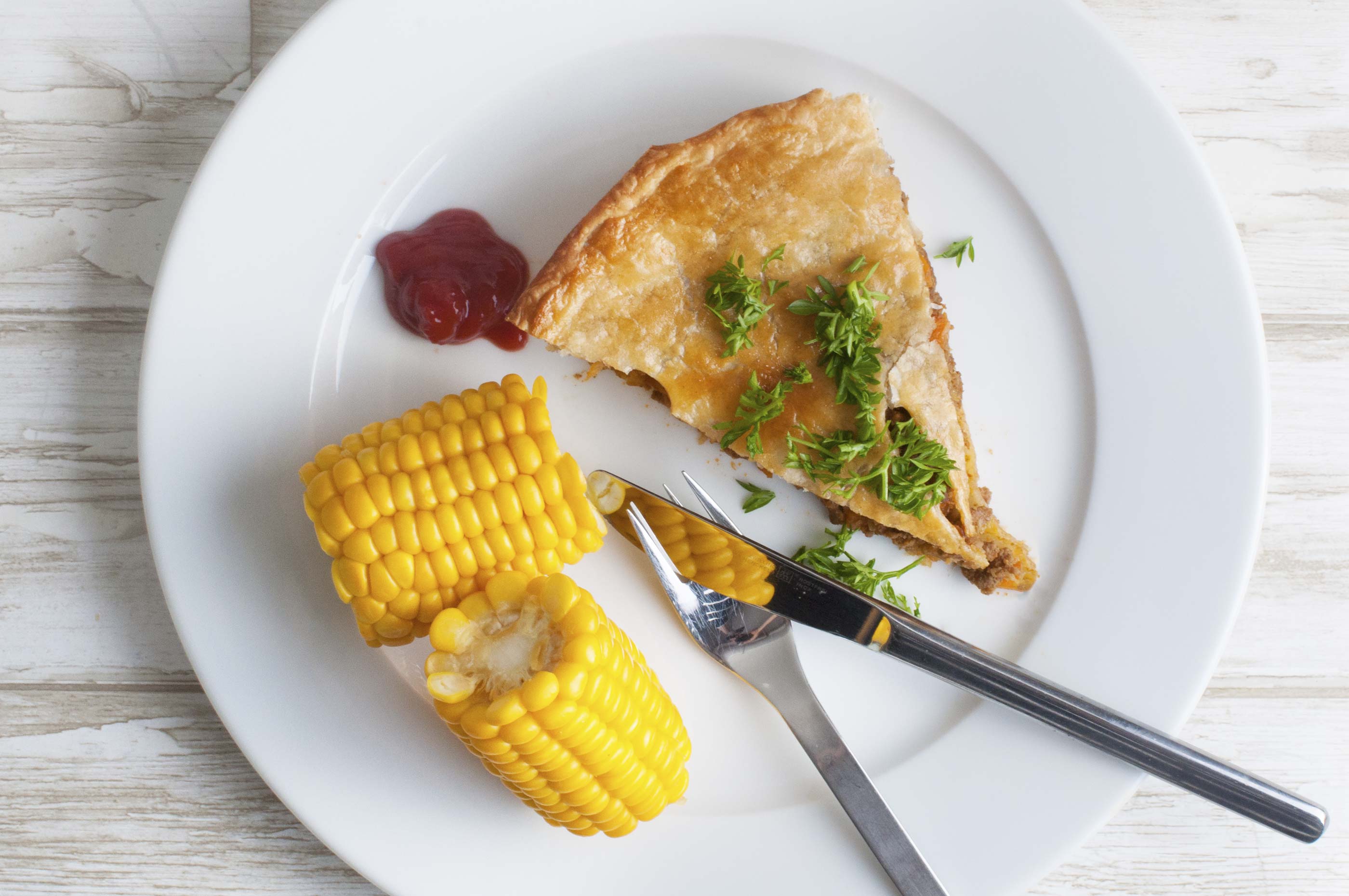 Ingredients
Freezer friendly
( 2 adults and 2 kids )
1

onion

200 grams

carrots

*

0.5 head

cauliflower

2 tsp

curry

400 grams

beef mince

200 ml

water

1 cube

beef stock

35 grams

tomato purée

4 sheet

puff pastry

1

egg

3

corn cob

semolina or plain flour

ketchup

salt

pepper

olive oil
ADD TO SHOPPING LIST
ADD TO MEAL PLAN
*
= Good to know - click the ingredient

= See the recipe - click the ingredient
Pie is possibly the truest British classic. This one is made with beef mince and hidden cauliflower - and trust us, the kids will never realise they actually ate something healthy. At least not until it's too late! Enjoy.
Directions
1. Preheat your oven to 220 degrees convection. Finely chop the onion. Peel and dice the carrots. Rinse the cauliflower, cut into florets, and finely blend them in a food processor or mini chopper.
2. Cook onion and curry with a bit of olive oil in a deep pan or pot, until the onions are slightly coloured and nicely fragrant. Add the mince and stir well, until thoroughly browned on all sides.
3. Add water, crumbled stock cube, tomato purée, carrot and cauliflower and let cook for an additional five minutes or so, until some of the water has cooked off. Add salt and pepper to taste and remove from heat.
4. Oil a pie tin with a dash of olive oil. Roll half of the puff pastry in a bit of plain flour, so the sheets cover the bottom and sides of your tin. Cut off the excess and use it to patch any tears that may have appeared. It's a bit finnicky, but don't worry - it really doesn't need to be perfect. Poke a few holes across the botton with a fork and brush the edge with beaten egg.
5. Spread the filling into the pie tin. Roll the rest of the puff pastry in some plain flour, until it has the right size to function as a "lid" for the pie. Again cut off the excess, and use it to patch any tears if needed. Cut a few slits into the lid so the steam can escape.
6. Brush the pie and any patchwork with beaten egg and bake for approx. 20 minutes, until beautifully golden on top.
7. While your pie is baking, chop off the tops and bottoms of the corn cobs, and get rid of any of those wildly irritating little hairs (whose bright idea were they anyway???). Split the cobs into smaller pieces and boil for about 10 minutes in lightly salted water.
8. Serve the pie with corn cobs and a dollop of ketchup for dipping. Enjoy!
Share your tips and comments