High five!
The recipe has been added to your shopping list.
Beef meatballs with veggies au gratin and pomegranate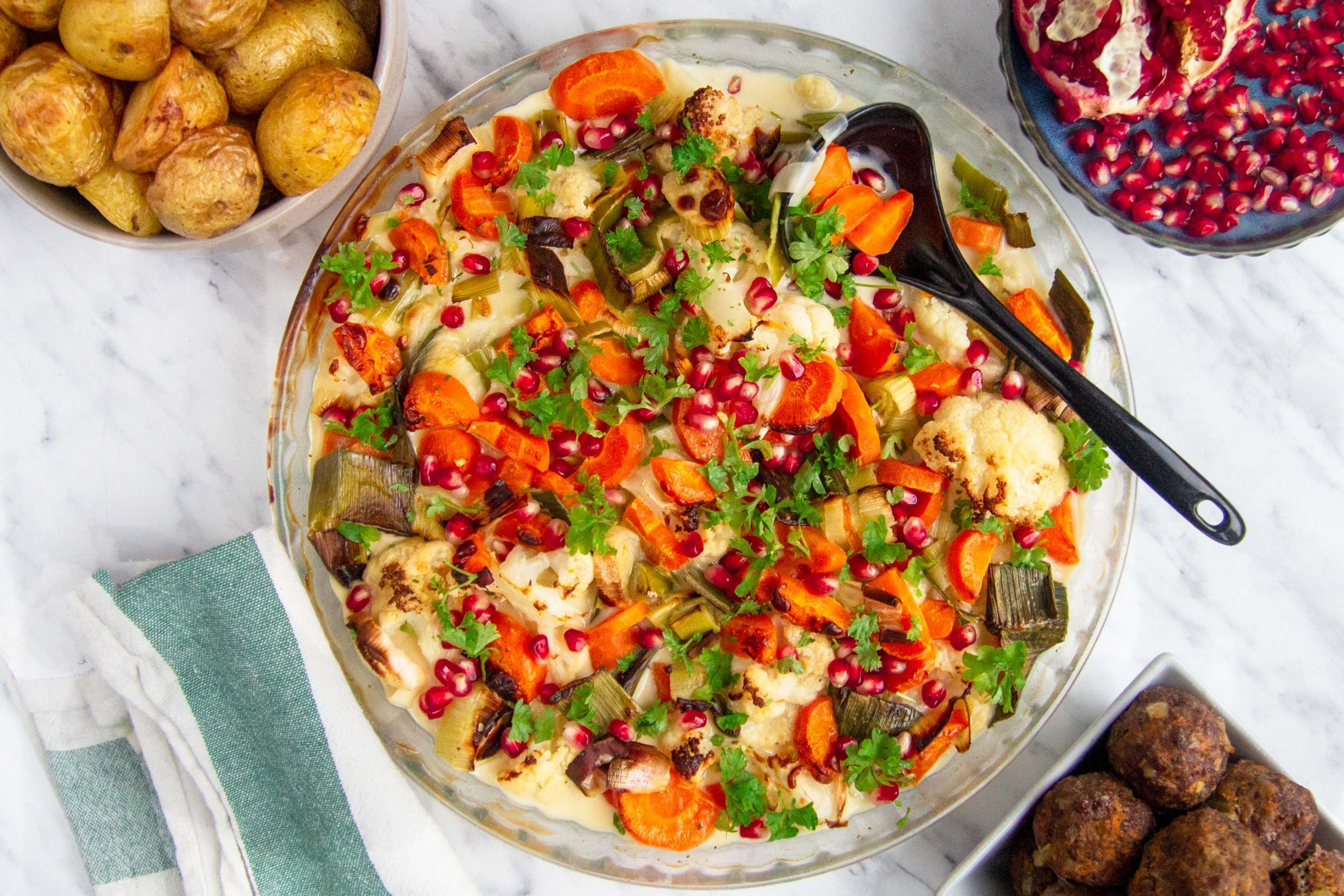 Ingredients
( 2 adults and 2 kids )
650 grams

baby potatoes

1

onion

0.5 tbsp

paprika

0.5 tbsp

dried oregano

1

egg

0.5 bunch

parsley

400 grams

beef mince

50 ml

milk

2 tbsp

plain flour

1 tsp

salt

1 head

cauliflower

300 grams

carrots

*

1

leek

250 ml

mornay sauce

100 ml

water

0.5 tbsp

dried thyme

1

pomegranate

butter

olive oil

pepper

baking parchment
ADD TO SHOPPING LIST
ADD TO MEAL PLAN
*
= Good to know - click the ingredient

= See the recipe - click the ingredient
Don't let the long list of ingredients scare you, this dish is super easy to make! Just pop the lot into an oven dish and let it cosy up in the oven. We're serving the beef meatballs with baked potatoes and and veggies au gratin (which sounds fancier than cheesy veggies..), topped with pomegranate seeds. Enjoy!
Directions
1. Preheat your oven to 220 degrees fan assisted.
2. Start with prepping the potatoes – peel or scrub them, then place on a sheet pan lined with baking parchment. Coat with a good dash of olive oil and season with salt and pepper. Bake for about 25-30 minutes.
3. Give onion, paprika, oregano, egg and rinsed parsley a spin in a mini chopper or food processor. Mix the choppings with beef mince, milk, plain flour and salt until you have a firm farce.
4. If needed, add a bit more flour if the farce is too moist, and an egg if it's not quite as 'together' as it should be. Shape meatballs the size of golf balls and place on a sheet pan lined with baking parchment. Bake for about 20 minutes – until cooked through.
5. Break the cauliflower into smaller florets and rinse. Peel and cut carrots into bite-sized chunks. Clean the leek and slice into rings – including some of the green bit. Place the lot in an oven dish and mix with mornay sauce, water, thyme, salt and pepper. Bake for about 15 minutes.
6. Meanwhile, halve the pomegranate and pop the seeds into a bowl (mind your clothes – pomegranate can stain something awful). If you got a pot of pomegranate seeds, we reckon this bit is selfexplanatory!
7. Serve the yummy meatballs with baked potatoes, veggies au gratin and pomegranate seeds on top. Enjoy!
Tip
Tasks for younger kids in the kitchen: Let your kids pick the pomegranate seeds out of the shell if using whole pomegranates. But for goodness sake, remember to give them an apron! The seeds give off a whole mess of colour.
Share your tips and comments