High five!
The recipe has been added to your shopping list.
Beef meatballs with couscous and hummus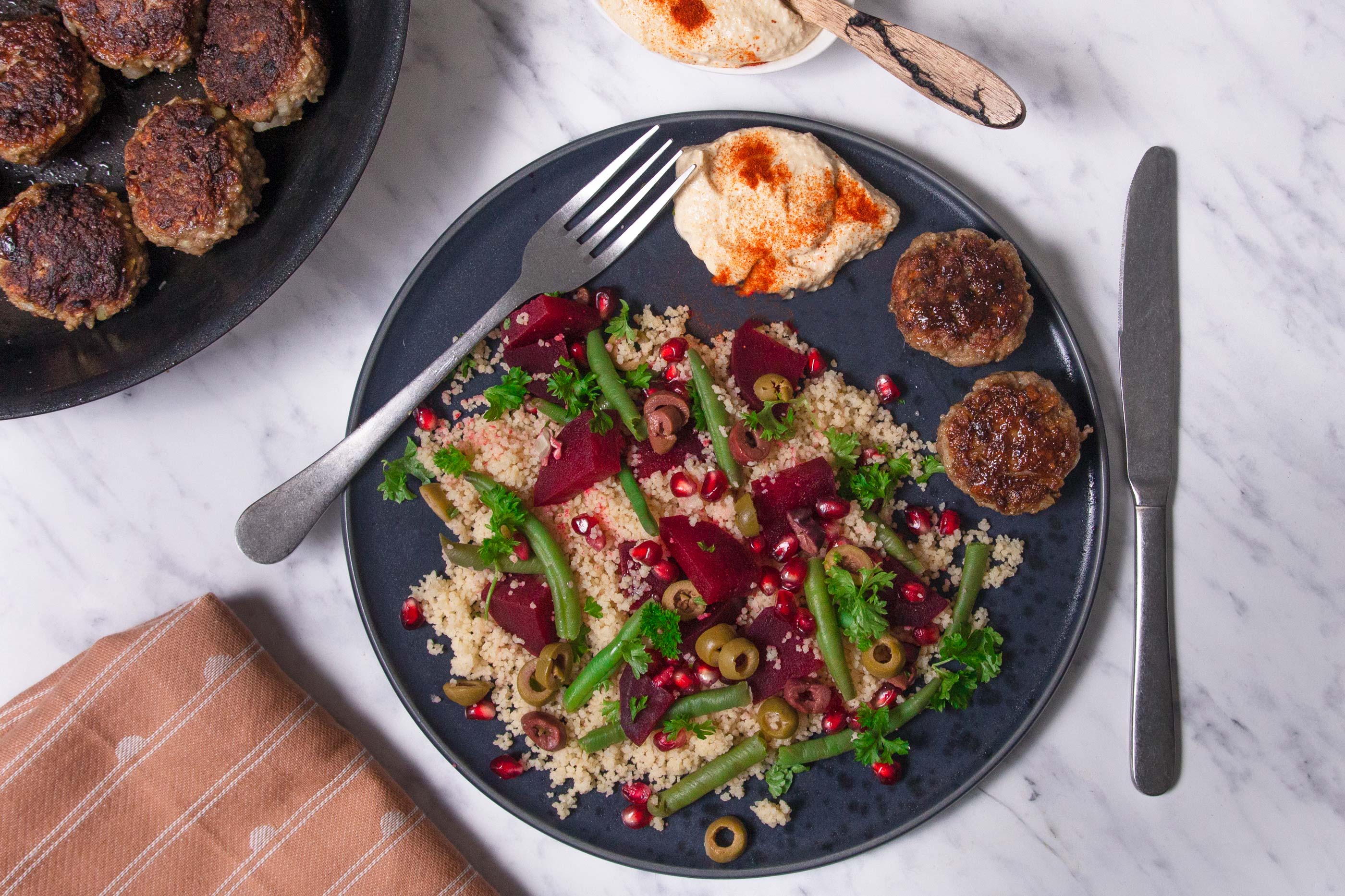 Ingredients
( 2 adults and 2 kids )
Meatballs

couscous

1

onion

1 clove

garlic

1 tsp

ground coriander

1 tsp

curry

1

egg

0.5 bunch

parsley

400 grams

beef mince

50 ml

milk

2 tbsp

plain flour

1 tsp

salt

butter

olive oil

couscous salad

400 grams

fresh beets

*

300 grams

frozen beans

0.5 bunch

parsley

1

pomegranate

100 grams

black olives

dressing of your choice

hummus
ADD TO SHOPPING LIST
ADD TO MEAL PLAN
*
= Good to know - click the ingredient

= See the recipe - click the ingredient
These spicy beef meatballs are super tasty! We're serving them with a fresh couscous salad with pomegranate, beets, beans and olives - and hummus for dipping. If you fancy making your own hummus, simply click the chefs' hat. Enjoy!
Directions
1. Cook couscous according to the packet, then blanch it with cold water and leave it to drip off. In a separate pot, cook unpeeled beets along with the beans for about 10 minutes, then blanch those with cold water as well.
2. Finely chop onion, garlic, coriander, curry, egg and rinsed parsley in a mini chopper or food processor. Mix with mince, milk, plain flour and salt, until you have a firm farce.
3. You can add a bit more flour, if the farce is too moist, and an egg if it's not coming together. Fry a little test-ball to taste. Then fry the meatballs in a mixture of butter and olive oil until golden.
4. Roughly chop the parsley for the salad with your best knife. Peel and dice the beets. Halve the pomegranate and use a spoon to knock on the shell, while holding it over a bowl - this is the easiest way to get the seeds out (mind your clothes, pomegranate can stain terribly). If you bought loose pomegranate seeds, we reckon you can figure this one out! Mix couscous with beets, pomegranate, beans, black olives and dressing of your choice.
5. Serve the meatballs with the yummy couscous salad, and hummus for dipping.
6. Enjoy!
Tip
Tasks for kids in the kitchen: Let your kids pick the seeds out of the pomegranate if using a whole fruit. But don't forget aprons all around - the pomegranate seeds are some messy little suckers!
Share your tips and comments