High five!
The recipe has been added to your shopping list.
BBQ salmon skewers with pineapple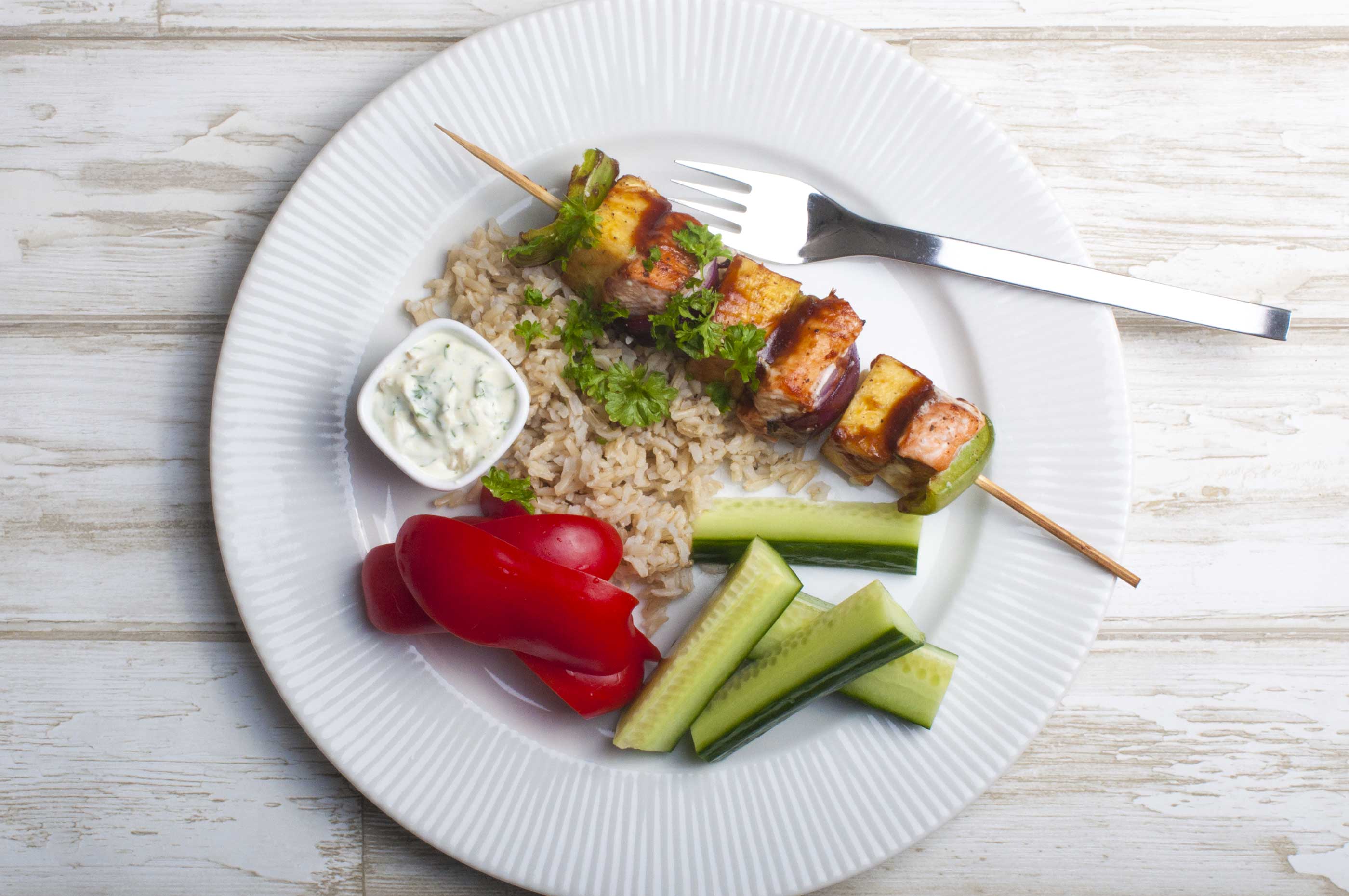 Ingredients
( 2 adults and 2 kids )
wholegrain rice

1

green bell pepper

1

red bell pepper

1

red onion or regular onion

0.5

cucumber

1

pineapple

2

salmon fillet

barbecue marinade

200 ml

creme fraiche 18%

1 tbsp

sweet mustard

1 bunch

dill

wooden skewers

salt

pepper

baking parchment
ADD TO SHOPPING LIST
ADD TO MEAL PLAN
*
= Good to know - click the ingredient

= See the recipe - click the ingredient
If you struggle to get fish into your kids, try these BBQ salmon skewers with pineapple and bell peppers. They're super tasty! Enjoy!
Directions
1. Preheat your oven to 200 degrees convection and boil the rice following the instructions on the packet.
2. Clean and rinse the peppers. Dice the green pepper and cut the red pepper into sticks for snack veggies. Quarter the onion and split it into layers. Rinse the cucumber and cut it into sticks for snack veggies. Peel the pineapple, remove the stem in the middle, and roughly dice it.
3. Remove the skin from the salmon and cut the fish into bite-sized chunks. Put salmon, pineapple, onion and pepper on the skewer in whatever order you see fit. Let the kids help you - it's lovely!
4. Place the skewers on a baking tray with baking parchment and brush with barbecue marinade on all sides. Bake in the oven for approx. 15 minutes, until the salmon is cooked through. Alternatively you can grill the skewers - if the weather permits. Do remember to brush with plenty of oil so the salmon doesn't stick.
5. Meanwhile, whip up a quick dressing of skyr, sweet mustard, and rinsed and chopped dill in a bowl. Add salt and pepper to taste.
6. Serve the tasty salmon skewers with rice, snack veggies and dill dip.
7. Enjoy!
Tip
Fish is unfortunately one of the pricier goods. We've used two salmon fillets for two adults and two children - and supplemented with veggies, pineapple and rice to make up for it. If your lot is hungry, buy a bit more salmon - or use more veggies. Remember to adjust your shopping list. If you have leftover pineapple, use it in the kids' packed lunch, as a topping for skyr or yoghurt, or in bites as an afternoon snack. You can buy the barbecue sauce ready at the supermarket - you'll find it on the shelf next to ketchup etc., or on the shelf with grill spices.
Share your tips and comments