High five!
The recipe has been added to your shopping list.
Baked cod with mango salsa and curry sauce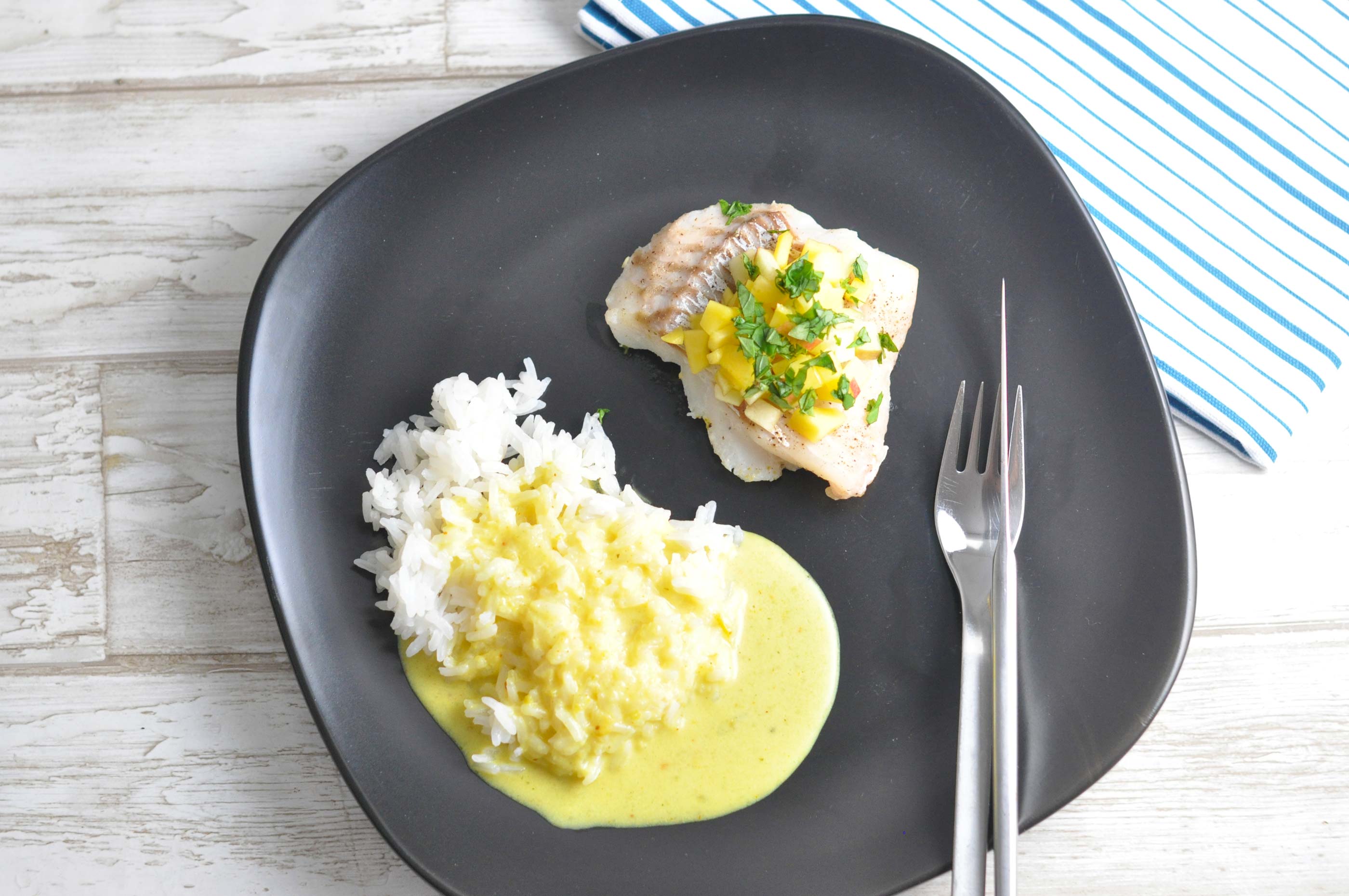 Ingredients
( 2 adults and 2 kids )
wholegrain rice

1

lemongrass

1

onion

200 ml

water

1 cube

vegetable stock

400 grams

cod fillet

1

apple

2 tsp

curry

300 ml

milk

2 tbsp

corn flour

0.5

mango

0.5 tbsp

acacia honey

*

0.5

lemon

salt

pepper

olive oil
ADD TO SHOPPING LIST
ADD TO MEAL PLAN
*
= Good to know - click the ingredient

= See the recipe - click the ingredient
Baked cod has a lovely and mild flavour that lots of kids enjoy. And if the little ones still aren't best friends with the idea of fish on the plate, it definitely helps that this one is topped with mango salsa.
Directions
1. Preheat your oven to 200 degrees convection and cook the rice according to the packet. Remove the outer leaf and bottom of the lemongrass. Roughly slice the bottom white bit into 4-5 thick slices. Throw away the rest.
2. Finely chop the onion. Spread half of the onion in a casserole tin along with water and lemon grass. Crumble half of the stock cube into the water. Place the fillets on top, drizzle with some olive oil and season with salt and pepper. Bake the cod for 10-15 minutes, or until it flakes when lightly pressed.
3. Cook the other half of the onion, as well as half of the apple, finely diced, in a dash of olive oil in a pot with the curry. Add the milk and slowly bring to the boil while stirring. Milk burns super easily, and once it boils it grows quickly, so keep an eye on it!
4. Plate the cod onto four plates. Chuck away the lemon grass and pour the rest of the liquid from the tray into the pot with the sauce. The onion bits get to stay!
5. Stir corn flour into some water and thicken the sauce to the consistency you prefer. You can stir some curry into water as well and add it, if you want the sauce to have a bit more flavour and colour. Season with salt and pepper. If the kids aren't on board with the onion and apple bits in the sauce, you can use a handblender to blend it.
6. Finely dice the other half of the apple as well as the mango. Mix well with some honey and lemon juice. Top the cod with the salsa and an optional sprinkle of herbs, if you have any to hand and serve with the piping hot rice and curry sauce. Enjoy!
Share your tips and comments