High five!
The recipe has been added to your shopping list.
Bacon-wrapped mince steaks with baked hokkaido pumpkin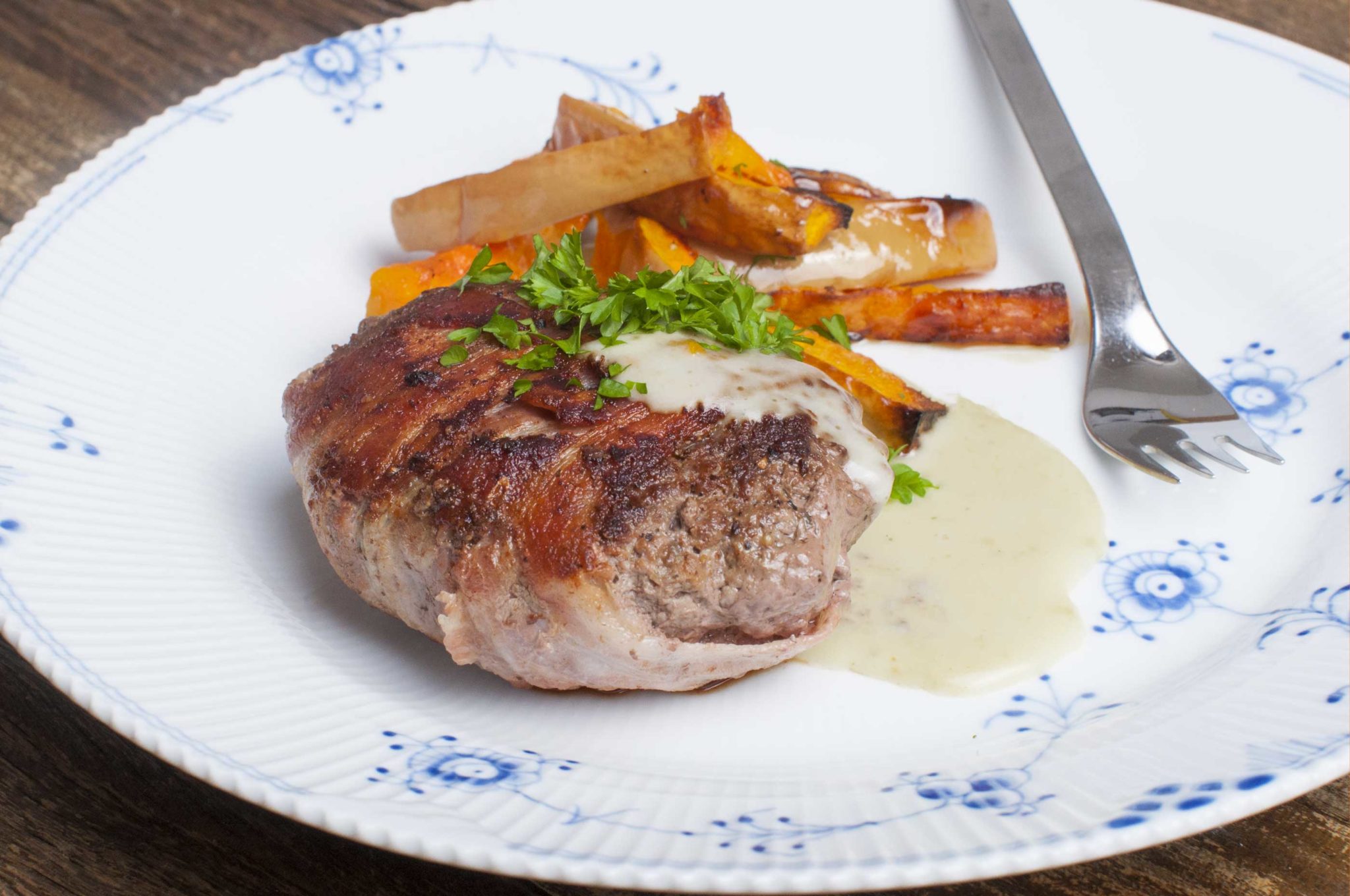 Ingredients
( 2 adults and 2 kids )
1

hokkaido pumpkin

500 grams

beef mince

150 grams

bacon slices

50 grams

gorgonzola cheese

400 ml

milk

1 cube

chicken stock

1 tbsp

acacia honey

*

corn flour

salt

pepper

olive oil

baking parchment
ADD TO SHOPPING LIST
ADD TO MEAL PLAN
*
= Good to know - click the ingredient

= See the recipe - click the ingredient
Hokkaido pumpkin is super tasty - especially when baked in the oven, peel and all! They get soft, sweet and lovely. This time we've served the pumpkin as a side to bacon-wrapped mince steaks, with a mild gorgonzola sauce. Enjoy!
Directions
1. Preheat your oven to 220 degrees convection.
2. Rinse and thoroughly scrub the pumpkin. If it's very dirty, peel it - but try to avoid that. Cut off top and bottom, halve it, and remove the seeds. Cut the pumpkin into small wedges, like if you were making potato wedges.
3. Pop the pumpkin in a baking tray lined with baking parchment, and coat with a nice drizzle of olive oil. Season with salt and pepper and bake for 30-45 minutes, until golden.
4. Meanwhile, shape patties from the mince, season with salt and pepper, and wrap bacon slices around each patty. Hold back a bit on the salt, as the bacon is salted already. Cook the mince steaks in some olive oil on a pan - or on the grill, if the sun is out - until cooked to your liking.
5. Crumble the cheese into a pot with milk and half a stock cube, and bring to the boil. Add honey to taste, as well as more cheese or stock if you feel it needs it. Thicken with a bit of corn flour stirred into a cup of water, and season to taste again.
6. Serve the juicy mince steaks with the soft and baked pumpkin wedges, as well as some sauce on top. Enjoy!
Tip
If you have leftover gorgonzola, you can use it as topping on homemade pizzas, on a slice of bread with jam, or you can make lovely little hors d'oeuvres to serve with a nice weekend dinner. Cut a sheet of puff pastry into squares of about 2x2 cm. Place a little chunk of cheese on each, and bake at 200 degrees convection for about 15 minutes, until the pastry has puffed and is golden, and the cheese is melted.
Share your tips and comments