High five!
The recipe has been added to your shopping list.
Asian-inspired fishcakes with noodles and fried veggies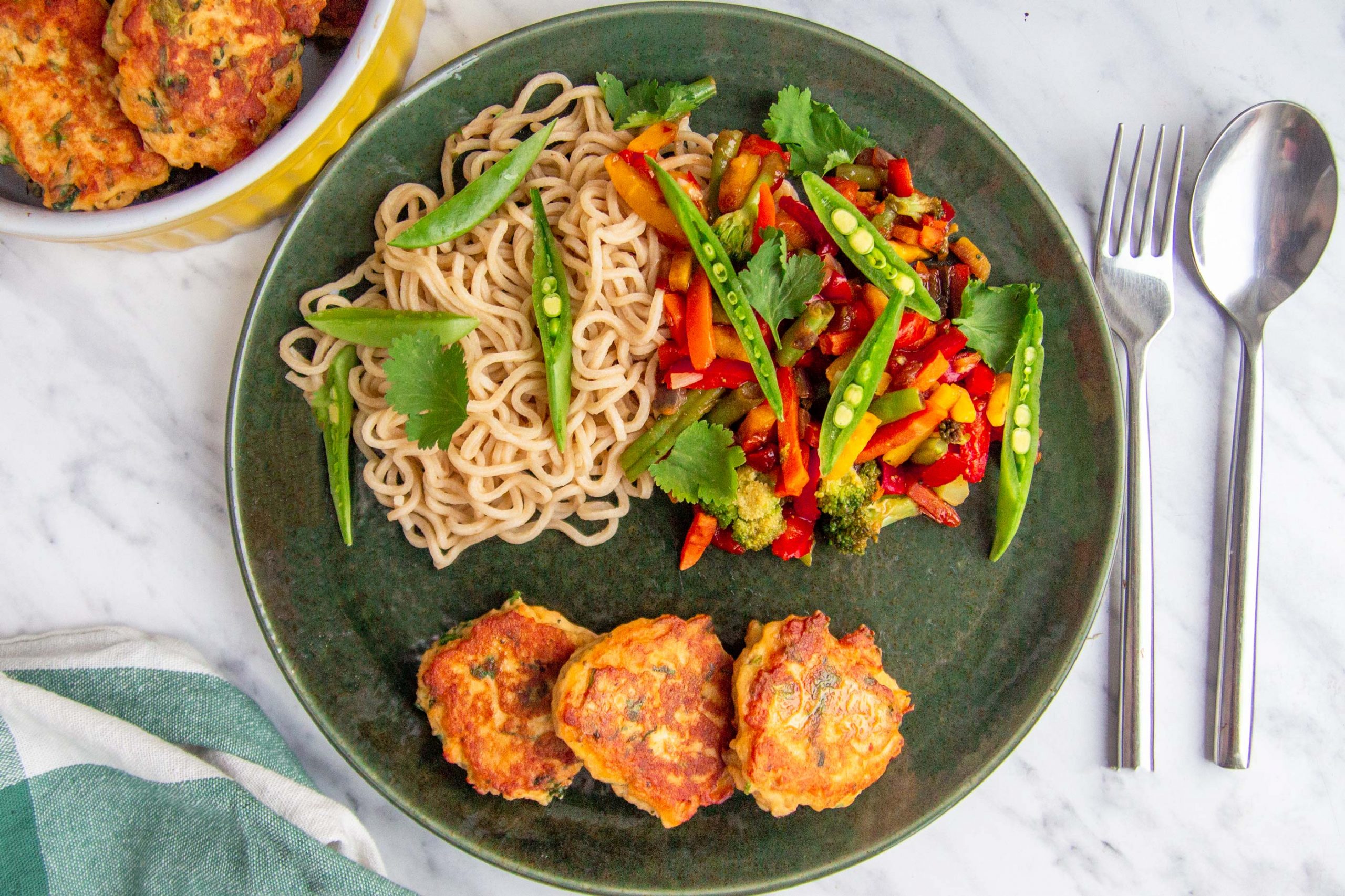 Ingredients
( 2 adults and 2 kids )
400 grams

fish farce

1 tbsp

soy sauce

1 tbsp

sweet chilli sauce

1 clove

garlic

1 bunch

fresh coriander

wholewheat noodles

400 grams

frozen wok mix

125 grams

sugar snap peas

butter

olive oil

Sauce

0.5 tbsp

red curry paste

6 tbsp

soy sauce

6 tbsp

sweet chilli sauce

100 ml

water
ADD TO SHOPPING LIST
ADD TO MEAL PLAN
*
= Good to know - click the ingredient

= See the recipe - click the ingredient
We've spiced up the classic fish cake with some Asian spices such as chopped coriander, soy sauce and sweet chilli sauce. We're serving them with noodles and fried veggies on the side. Enjoy!
Directions
1. Mix the fish farce with soy and sweet chilli sauce. Press the garlic and finely chop coriander. Save half of the coriander for garnish, for those who want it. Add garlic and coriander to the farce.
2. Cook a little test cake to make sure the seasoning is how you like it.
3. Dip a spoon into a cup of water and shape lovely little fishcakes with the spoon and palm of your hand. Fry in a mix of butter and olive oil on a pan, until they have a nice, golden and crispy surface. Remember to turn the cakes frequently, so they don't turn black.
4. Cook noodles according to the packet and leave to drip off in a colander while you sort the rest. We suggest tossing them with a bit of olive oil to prevent them sticking.
5. Fry the wok mix in a deep pan or wok along with curry paste in some olive oil. Watch out for sputtering oil, if the veggies are holding onto a lot of moisture. Add soy and sweet chilli sauce and water. Rinse sugarsnap peas well, cut into thin strips and add at the very ends, so they get warm throughout but stay crispy.
6. Serve the fishcakes along with piping hot noodles, fried veggies, and maybe a bit of soy and sweet chilli sauce on the side. Top with coriander for those who want some. Enjoy!
Tip
Tasks for younger kids in the kitchen: Let your kids help wash and cut sugar snap peas into strips.
Share your tips and comments