High five!
The recipe has been added to your shopping list.
Asian fried pork with noodles and veggies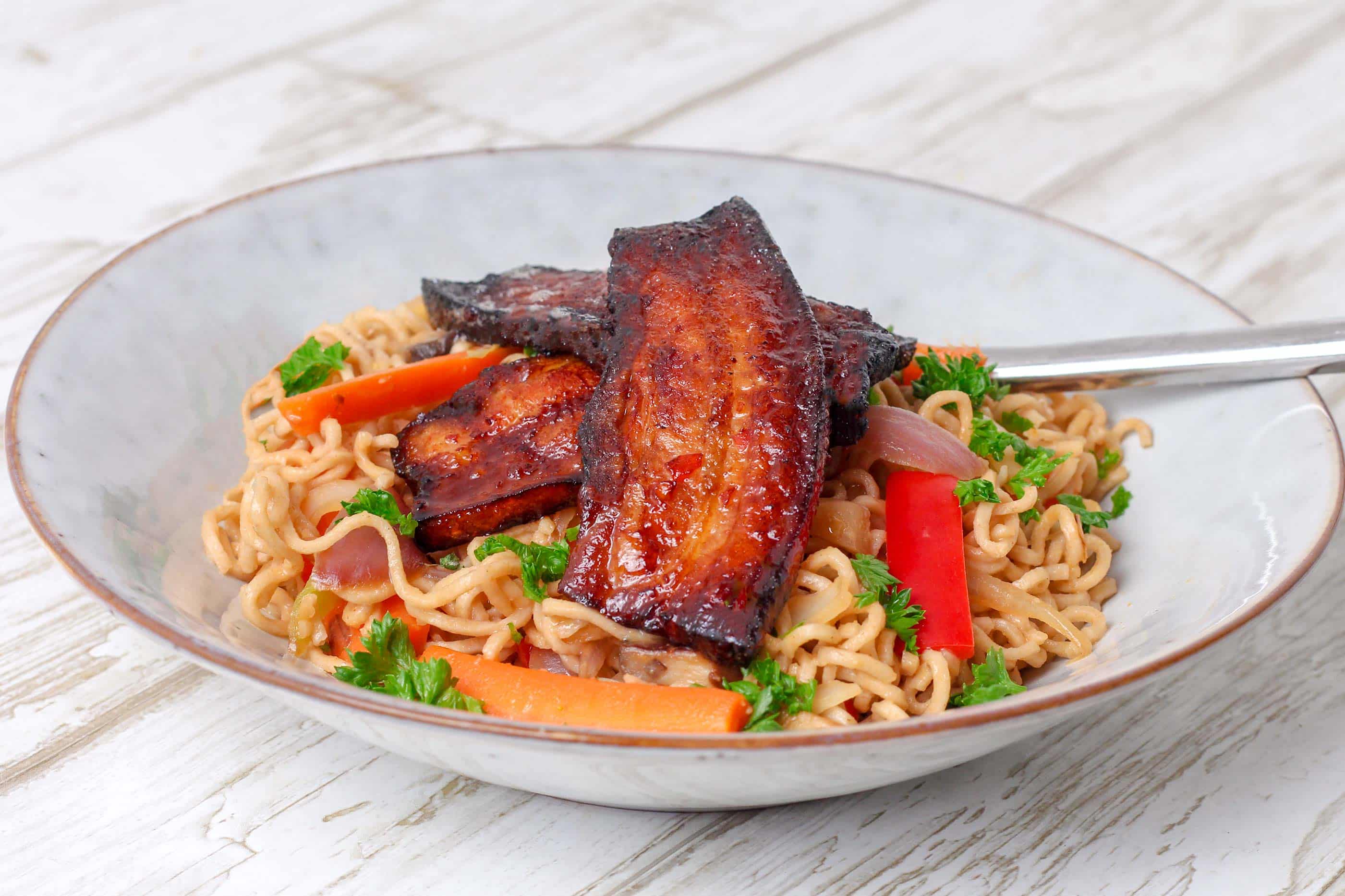 Ingredients
( 2 adults and 2 kids )
500 grams

sliced pork

wholewheat noodles

300 grams

carrots

*

1

onion

200 grams

mushrooms

1

red bell pepper

100 ml

sweet chilli sauce

100 ml

soy sauce

1 clove

garlic

1 tbsp

peanut butter

salt

olive oil
ADD TO SHOPPING LIST
ADD TO MEAL PLAN
*
= Good to know - click the ingredient

= See the recipe - click the ingredient
We've done a twist on the old school classic that is fried pork, and jazzed it up in a super yummy Asian style with noodles and crispy roast veggies. Enjoy!
Directions
1. Preheat your oven to 200 degrees convection.
2. Slightly flatten the pork slices with your palm, place it on an ovengrate and sprinkle with a bit of salt. Place the grate with the pork in the middle of the oven with a baking tray underneath, to collect the fat from the pork.
3. Cook the pork for about 30-35 minutes, until crispy. Remember to turn it halfway through cooking.
4. Cook the noodles according to the packet and let them drip off.
5. Peel the carrots and cut them into sticks. Peel the onion and cut into wedges. Rinse and halve the mushrooms. Rinse the bell pepper, remove the seeds and cut into bite-sized chunks. Cook all the veggies in olive oil, until they're cooked, but still have some crunch to them.
6. Meanwhile, mix sweet chilli and soy sauce, pressed garlic and peanutbutter and give the lot a whirl in a mini chopper.
7. Mix the noodles and veggies and mix in three quarters of the sauce. Brush the pork with the rest of the sauce - or serve it on the side, so the ones who want to can brush and dip for themselves.
8. Serve the crispy pork with the warm noodles.
9. Enjoy!
Tip
Tasks for kids in the kitchen: Let your kids help flatten the pork. They can also easily rinse and halve the mushrooms.
Share your tips and comments