High five!
The recipe has been added to your shopping list.
Chicken krebinettes with low-fat dauphinoise potatoes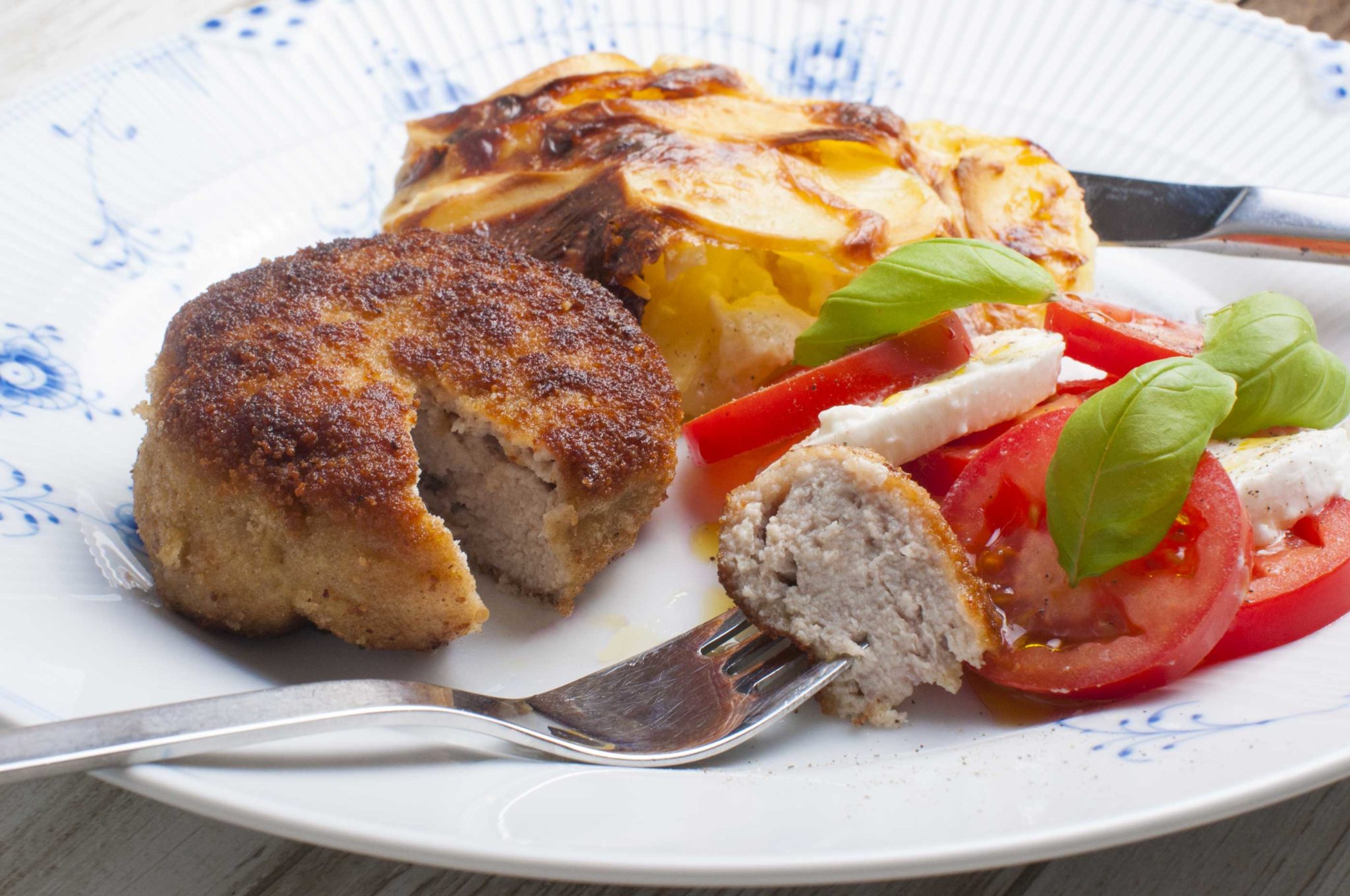 Ingredients
( 2 adults and 2 kids )
Dauphinoise potatoes

700 grams

potatoes

1

onion

200 ml

single cream 8%

200 ml

milk

1

egg

50 grams

grated cheese

- ideally low-fat

1 tsp

salt

pepper

olive oil

Krebinettes and tomato salad

1

egg

100 grams

breadcrumbs

500 grams

chicken mince

4

tomato

1 ball

mozzarella
ADD TO SHOPPING LIST
ADD TO MEAL PLAN
*
= Good to know - click the ingredient

= See the recipe - click the ingredient
Krebinettes are traditionally made with pork mince, but here we've used chicken mince - which makes the krebinettes leaner and milder in flavour. We've served them with low-fat potato dauphinoise and a yummy tomato salad. This dish is perfect for a Friday or weekend, where you have a bit more time in the kitchen. Enjoy!
Directions
1. Preheat your oven to 225 degrees convection.
2. Peel and thinly slice the potatoes. Finely dice the onion. Mix cream, milk, egg, grated cheese, salt, and a crack of pepper together well. Now mix potato slices, onion and the cream mixture with a spoon (or use your hands) in a large bowl, and pour over to a lightly oiled casserole tin.
3. Pop the potatoes in the oven while you prep the krebinettes. The potatoes need 30-40 minutes, or until beautifully golden on top.
4. Beat the egg using a fork in a deep plate. Pour the breadcrumbs onto a separate deep plate and mix in a dash of salt and pepper.
5. Shape the mince into patties. Now, start by coating the patties in the egg, then in the breadcrumbs. Cook the krebinettes on a pan in a bit of olive oil. If you want to save time and fats in the kitchen, you can opt to quickly sear them and finish them in the oven.
6. Slice rinsed tomatoes and mozzarella and layer them on a tray. Drizzle with a dash of olive oil. And if you have some fresh herbs knocking about the kitchen, optionally top with a handful. Do avoid herb sprinkles for kids younger than 3.
7. Serve the krebinettes with the tomato salad and dauphinoise potatoes.
8. Enjoy!
Share your tips and comments