High five!
The recipe has been added to your shopping list.
15 minute ramen soup with chicken and egg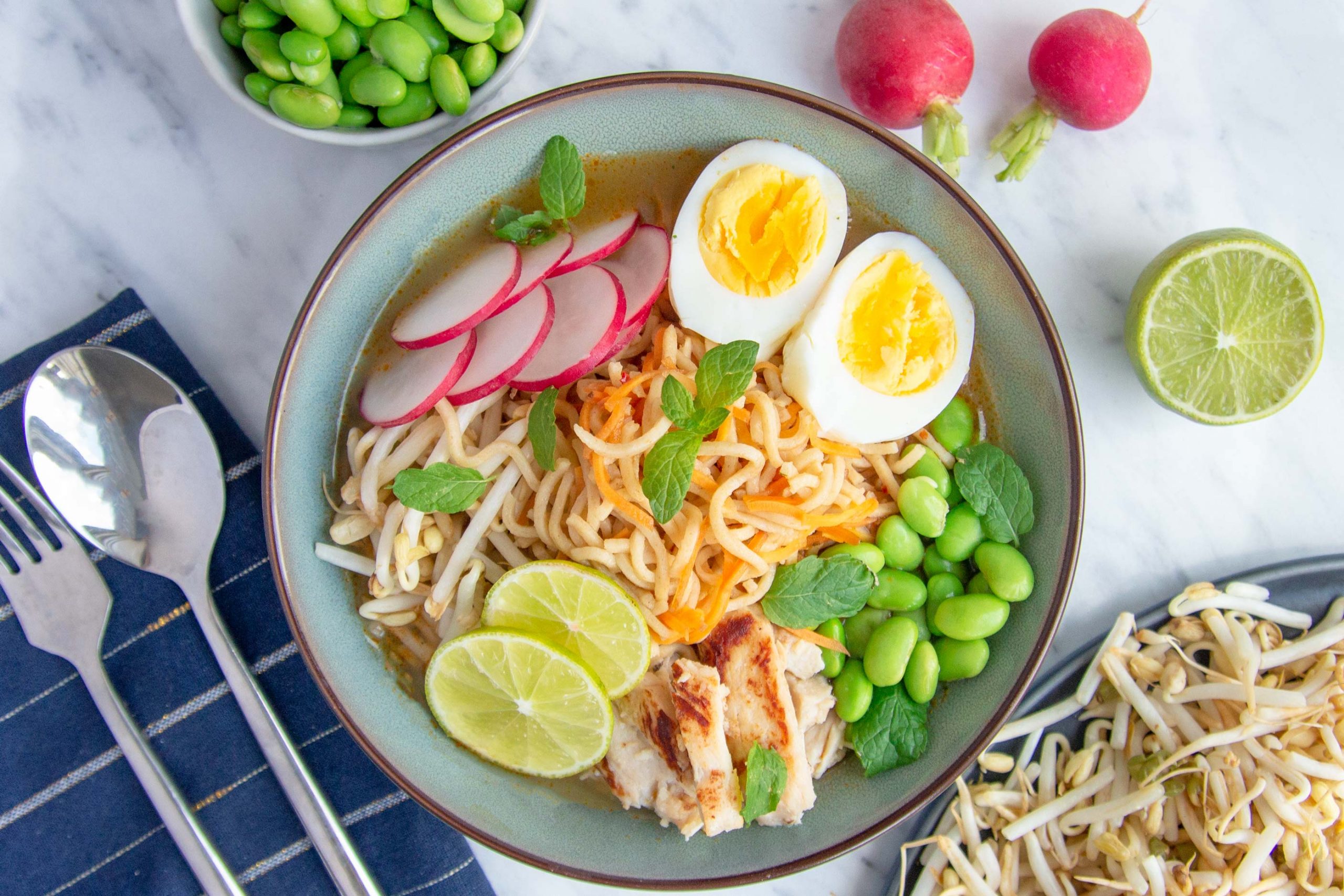 Ingredients
( 2 adults and 2 kids )
2 liter

water

2 cube

chicken stock

4

egg

350 grams

chicken strips

150 grams

edamame beans

200 grams

grated carrot

250 grams

wholewheat noodles

50 ml

soy sauce

1

lime

7

radish

150 grams

bean sprouts
ADD TO SHOPPING LIST
ADD TO MEAL PLAN
*
= Good to know - click the ingredient

= See the recipe - click the ingredient
We've whipped up a brilliant ramen soup for the days where things need to come together in a hurry! We've used pre-cooked chicken strips, edamame beans and grated carrots. We're topping the whole thing with bean sprouts, radishes and eggs. If you have time to spare, you can of course cook a handful or fresh chicken fillets – just remember to adjust your shopping list. Enjoy!
Directions
1. Add the water from the ingredient list to a large pot along with crumbled stock cubes. Crank the heat all the way up and bring to the boil.
2. Bring a small saucepan of water to the boil for the eggs. Boil the eggs for 10 minutes, then immediately rinse with cold water – to stop them cooking and make them easier to peel.
3. Add chicken strips, edamame beans, grated carrot and noodles to the pot and cook for another 5-7 minutes or so, until the noodles are cooked.
4. Season to taste with soy sauce, lime juice and more stock, if needed.
5. Rinse and slice radishes.
6. Serve in bowls or deep plates with peeled and halved eggs, radish slices and bean sprouts on top. Enjoy!
Tip
Tasks for younger kids in the kitchen: Let your kids help slice the radishes. They can also help taste the soup and peel the eggs.
Share your tips and comments