High five!
The recipe has been added to your shopping list.
15 minute pasta with sausage and fajita veggies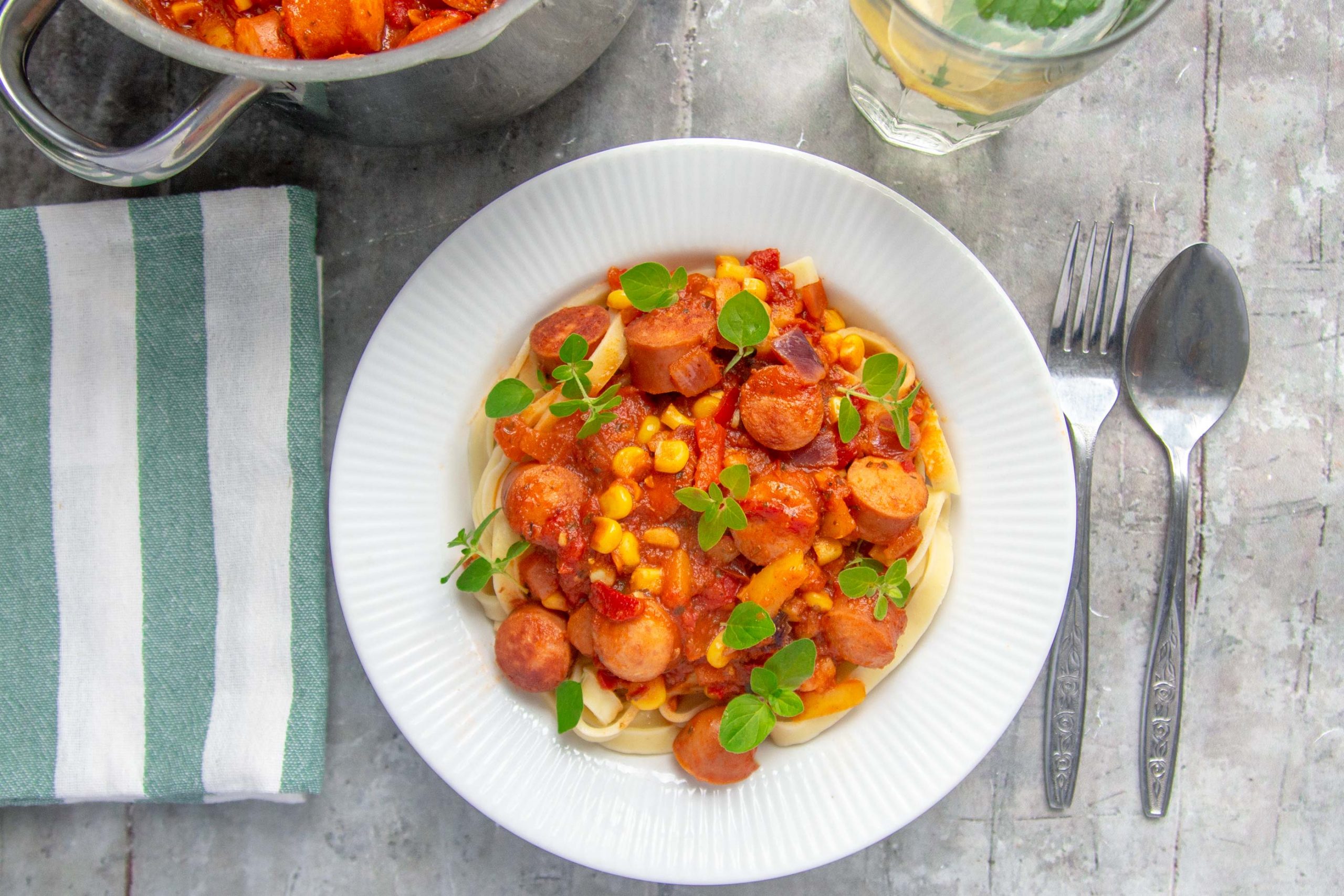 Ingredients
( 2 adults and 2 kids )
fresh pasta

6

grill sausage

450 grams

frozen fajita veg mix

280 grams

organic pizza sauce

200 ml

water

salt

pepper

olive oil
ADD TO SHOPPING LIST
ADD TO MEAL PLAN
*
= Good to know - click the ingredient

= See the recipe - click the ingredient
This pasta dish takes just 15 minutes to make, using a jar of organic pizza sauce and a seasoned vegetable mix to make the yummiest sauce. Look for a fajita mix amongst the frozen veg – if that fails, nab your preferred frozen veg mix and add some paprika or other spices. Enjoy!
Directions
1. Cook the pasta according to the packet.
2. Slice the grill sausages into bites and sautée in some olive oil in a deep pan or pot until lightly browned.
3. Add the frozen fajita mix and sautée for about 5 minutes.
4. Add the pizza sauce, add water to the jar and shake it so you get it all, and add this to the sauce as well.
5. Let the sauce simmer and season with salt and pepper.
6. Serve the fresh pasta in deep plates with the yummy veg sauce and sausage bites on top, and optionally garnish with a sprinkle of herbs, if you have some to hand. Enjoy!
Tip
Tasks for younger kids in the kitchen: Let your kids help slice the sausages into bites, stir the sauce and help with tasting and seasoning.
Share your tips and comments