High five!
The recipe has been added to your shopping list.
15 minute grill sausages with baby potatoes and coleslaw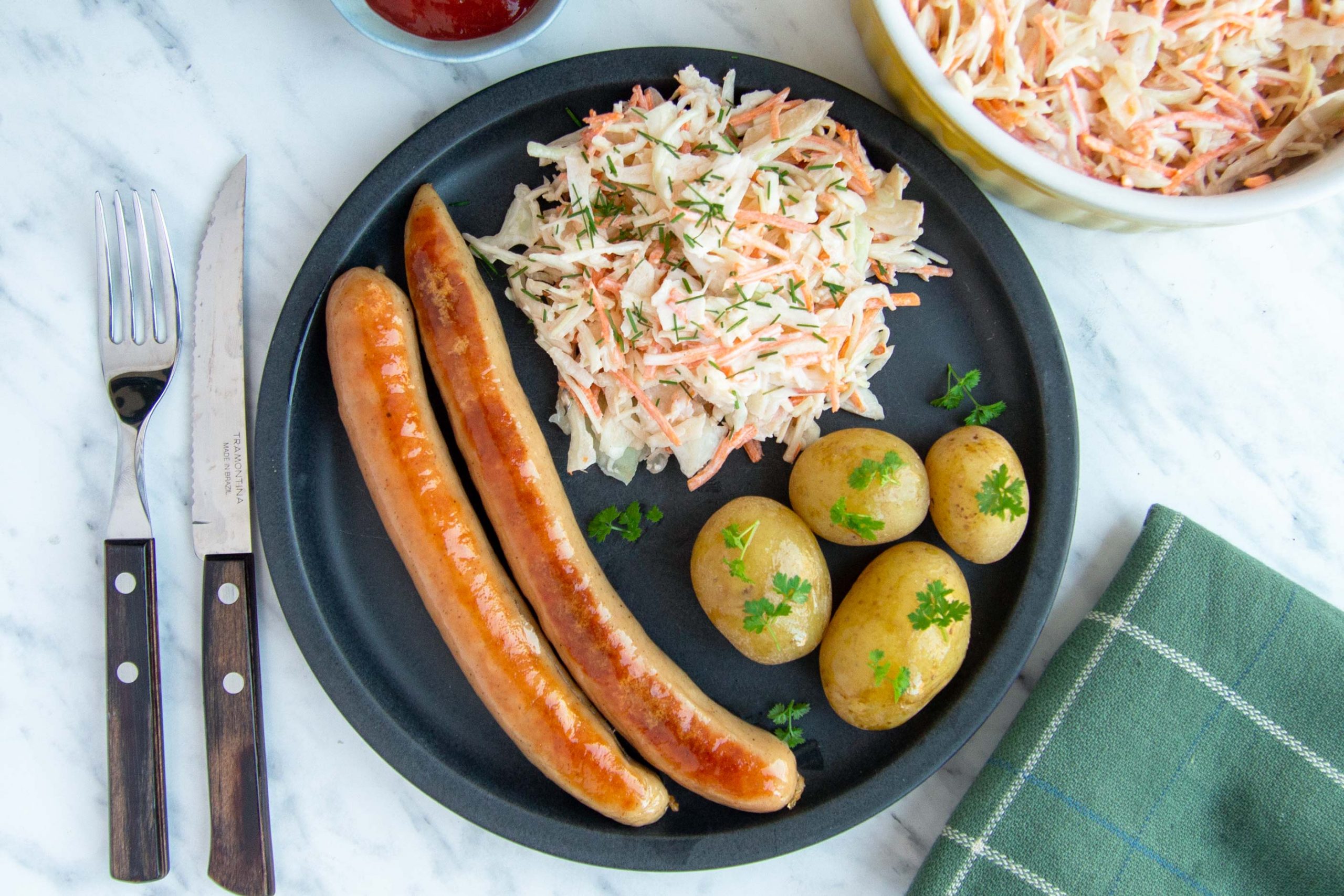 Ingredients
( 2 adults and 2 kids )
600 grams

baby potatoes

6

grill sausage

400 grams

ready-made coleslaw

salt

pepper

ketchup
ADD TO SHOPPING LIST
ADD TO MEAL PLAN
*
= Good to know - click the ingredient

= See the recipe - click the ingredient
Most kids LOVE a grill sausage (and so do the grownups here at Mambeno, for the record..). They're super quick to cook and come in tonnes of tasty varieties. Go for the grill sausages that contain the most meat, and the least funny-sounding additives! Today we're serving this simple classic in a super speedy fashion, perfect for busy days, with baby potatoes, ready-made coleslaw and ketchup. If you have time to spare, click the little chefs' hat in the ingredient list and make your own coleslaw. Enjoy!
Directions
1. Boil the potatoes in salted water until tender when poked with a fork. This takes 10-12 minutes depending on size.
2. Fire up the grill – or pop a pan on the stove. Grill or fry the sausages until they're to your liking.
3. Mix the coleslaw veggies with the accompanying dressing, if not already mixed.
4. Serve the cooked sausages with spuds, coleslaw and ketchup. Simple, innit? Enjoy!
Tip
Tasks for younger kids in the kitchen: Let your kids help mix the coleslaw and flip the sausages. And they can always help set the table!
Opgaver til mindre børn i køkkenet: Lad dine børn være med til at blande salaten og vende pølserne. Og så kan de jo også hjælpe til med at dække bord!
Share your tips and comments