High five!
The recipe has been added to your shopping list.
15 minute gnocchi with tomato sauce, turkey bacon and quick salad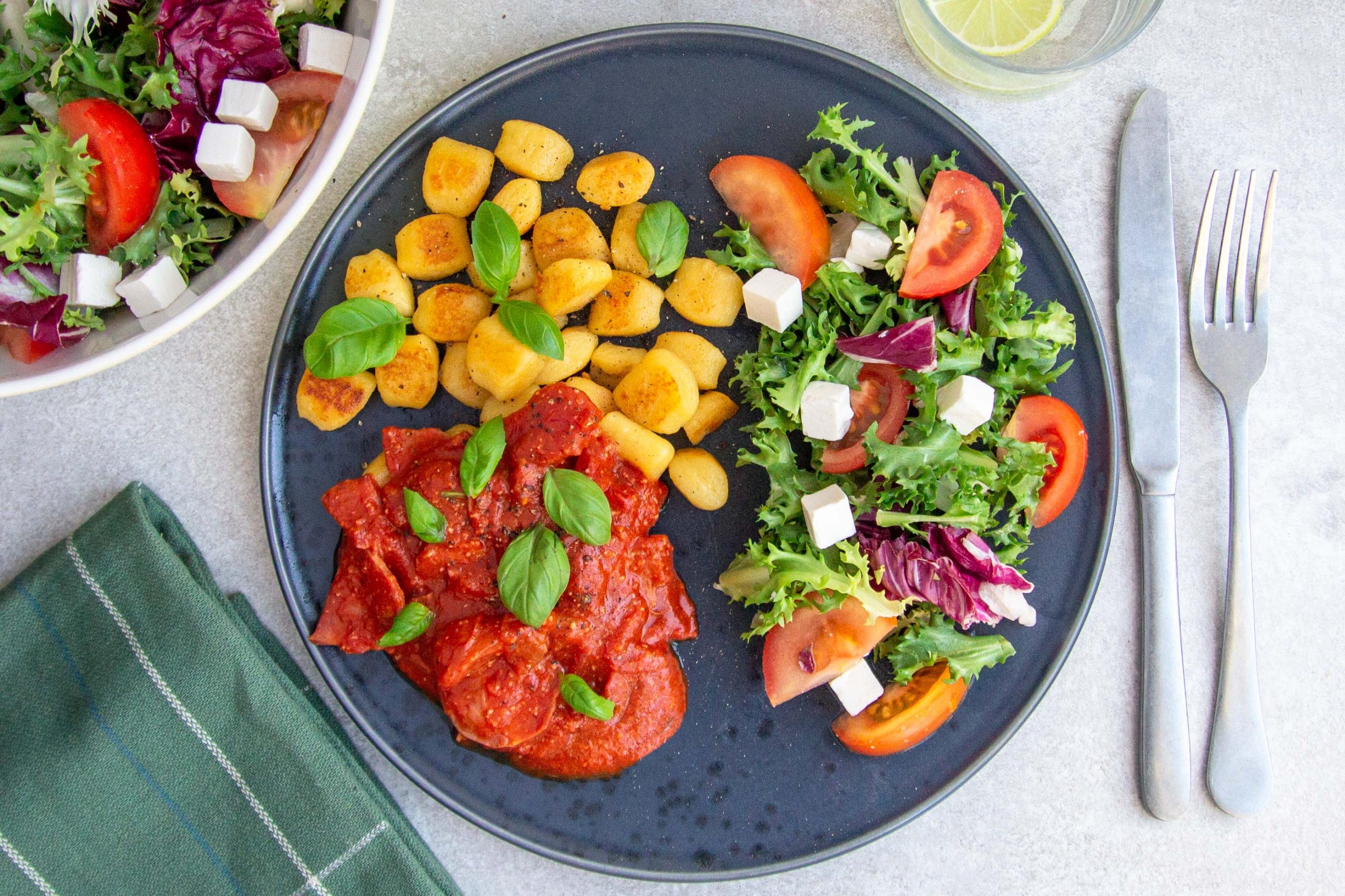 Ingredients
( 2 adults and 2 kids )
125 grams

turkey bacon

700 grams

gnocchi

280 grams

organic pizza sauce

200 ml

water

70 grams

salad mix

3

tomato

150 grams

feta cubes

dressing of your choice

salt

pepper

olive oil
ADD TO SHOPPING LIST
ADD TO MEAL PLAN
*
= Good to know - click the ingredient

= See the recipe - click the ingredient
Gnocchi is an Italian classic - a sort of 'pasta' made from cooked, mashed potatoes. We're pan frying them to give a crispy crust, and serving them with a tomato sauce with turkey bacon and a quick salad. Enjoy!
Directions
1. Begin by cutting turkey bacon into smaller pieces. Fry until crispy on a pan with some olive oil. While the bacon is frying, take a separate pan and fry the gnocchi in some olive oil over medium heat. Remember to turn them so they brown on all sides.
2. Back to the turkey bacon. Add tomato sauce, pour water into the sauce jar, shake it to get everything out and add this to the sauce. Let the sauce simmer and season with salt and pepper and optionally some oregano, thyme or other herbs if you have some to hand.
3. Make a quick salad from rinsed salad mix, rinsed, sliced tomatoes and feta cubes. Mix the lot with dressing of your choice.
4. Serve the pan fried gnocchi with tomato sauce and crunchy salad. Enjoy!
Tip
Tasks for younger kids in the kitchen: Let your kids help cut up the turkey bacon, stir and taste the sauce.
Share your tips and comments