What you get as a member
Mambeno is a popular Danish meal plan for families with children – now also in the UK.
With Mambeno, you'll every week get an easy and tasty meal plan from Monday to Friday. You'll reduce food waste and save money on your shopping. You'll get access to a series of unique functions, that will make cooking and shopping a lot more fun, and the day-to-day a bit easier. 
Transfer the entire meal plan onto your personal shopping list
Add household items to your shopping list
Print your shopping list or bring it with you on your mobile
Adjust the amount of servings, so meal plans and recipes suit the size of your family
Move dishes from one weekday to another
Swap the dishes in the meal plans for others from our huge archive
Add your favourite dishes to your personal archive of favourites
All your personal notes to each recipe
Print and save your personal meal plan onto paper including any recipe and a handy weekly plan to hang on your fridge

YOU'LL SAVE BOTH TIME AND MONEY, because you can now compile all your shopping and get it all done in one go.
Select the entire meal plan or individual recipes and add them with a single click to our handy shopping list, which you can print or view directly on your mobile while you're at the shops. And of course you can also add other household items you need to the shopping list.

EVERY THURSDAY you get a delicious meal plan from Monday to Friday directly to your mail box and phone.
The meal plan contains accessible recipes for easy and kid-friendly dinners. The ingredients can all be purchased at a regular supermarket – and every dish and recipe is of course tested on real families.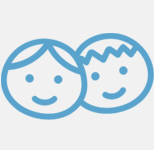 MORE TIME FOR THE FAMILY. Because that's the most important thing.
Mambeno saves you from the brain-wracking at the cooler and gives your shopping and cooking a system. See how easy it is to use the meal plans.

LESS FOOD WASTE AND FOCUS ON HEALTH are important to us at Mambeno. That's why a lot of ingredients will reoccur throughout the week.
At the same time, we make sure the whole family gets both fish and plenty of veggies. But we're not fanatical. Our kids love cake and hot chocolate with marshmallows too! Be inspired by Mambeno's many easy and quick recipes.
Enjoy!